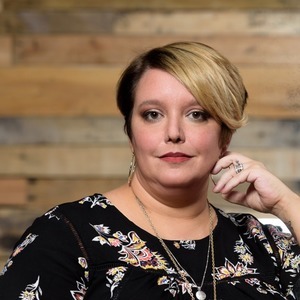 Stephanie Daily
Co-Host of An Indianapolis Business Podcast: Off the Circle
In March 2017 Stephanie decided to leave her position at a local digital agency to pursue her calling, Fatherless Daughters. Fatherless Daughters is a global 501(c)(3) based out of Indianapolis, Indiana. Fatherless Daughters provides counsel, friendships, grief management plans, grief phone calls, grief workshops, Fatherless Daughters events, and so much more.
Stephanie is married to Mr. D., she has a son Kameron that is graduating from high school this year. In her spare time, Stephanie loves to cook, go to concerts (she's been to 10 this year - so far), watch the Packers play, and is completely addicted to House of Cards.
Stephanie Daily has hosted three Episodes.
March 8th, 2018 | 39 mins 44 secs

adrianne slash, bipartisan, indiana, indiana politics, jamar cobb-dennard, minorities, people of color

The mission of the 10|100 committee is to facilitate the election of 10 members-of-color in the US Senate, and 100 members-of-color in the US House of Representatives serving concurrently by 2050.

November 20th, 2017 | 1 hr 4 mins

business, culture of good, leadership, philanthropy

Culture of Good is a culture change resulting from a deep-seated desire to do more good in the world. On today's Off the Circle we interview Co-founder Ryan McCarty.

October 30th, 2017 | 58 mins 39 secs

fatherless daughters, female, female business-owners, female entrepreneurs, indiana, indiana originals, indianapolis, jen daisy boutique, women, women-owned business

We have an amazing conversation with 3 female business owners who have created businesses serving their community. The founders of JenDaisy Boutique, Indiana Originals, and Fatherless Daughters are an inspiration - and we interview them here in Off the Circle.