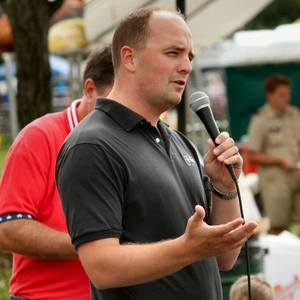 Scott Fadness
Special guest
Scott Fadness became the Mayor of the City of Fishers, Indiana on January 1, 2015.
Fadness previously served as Fishers' Town Manager from 2011-2014 and Deputy Town Manager of Operations from 2009-2011 overseeing the day-to-day operations of public works, engineering, fleet management, and parks and recreation.
As the City of Fishers first Mayor, Fadness is in charge of the day-to-day operations of the city and leads a team of 12 department directors to make Fishers a smart, vibrant, and entrepreneurial city. He is a board member of the Public Works & Safety Board, Storm Water Management Board and E-911 Communications Operations Board.
Fadness is the co-founder and board member of Launch Fishers, chair of AIM's Legislative Committee, vice chair of the Central Indiana Council of Elected Officials and member of the Hamilton Southeastern School Foundation Advisory Council member.
Scott Fadness has been a guest on 1 episode.
November 14th, 2017 | 53 mins 41 secs

central indiana, fishers, indiana, indianapolis, iot, iot lab, technology

Indiana is positioning itself as a leader in the Innovation of IoT technologies with the launch of the Indiana IoT Lab in Fishers, Indiana.